The second most important race in the nation
Third Cultured vol 53
Tomorrow is the second biggest electoral day of the year: Super Tuesday.
And, outside the ego-squabbling of northeastern 70-something-year-olds, there are hundreds of other candidates in local, state and congressional races to check out!
Here in San Francisco, Speaker Nancy Pelosi is facing her toughest primary in decades from Democratic Socialist Shahid Buttar. (Which is why she can't openly fight Bernie.)
In my latest byline, I profiled Buttar's challenge of the nation's most powerful Democrat for Current Affairs!
In addition to #ShahidVsPelosi, I took a look at how local socialist wins in San Francisco have set the stage for Buttar's campaign. The Speaker is campaigning in the primary for the first time since acquiring her gavel because the same energy behind AOC and Senator Bernie Sanders (D-VT) are now powering her opponent.
Give it a read, and let me know what you thought in the comments!
1,357 of the 3,979 pledged convention delegates are up for grabs, a third of the total and the lion's share of the total needed (1,991) to secure the Democratic nomination for president. (Graphic: Washington Post)
Even though we won't have the final tally for several weeks (California is 40 million people after all), Super Tuesday will provide a picture of how much momentum Senator Bernie Sanders has built – polls give him 2-to-1 lead for CA's 415 delegates – and if Joe Biden has a chance to blunt the #NotMeUs juggernaut.
In February alone, Bernie's small donor machine raised $46.5 million.
Just today, Biden did this.
Luckily, we only have to wait until tomorrow to find out.
Happy voting!
Kyle
PS – Subscribe to Third Cultured below for a whole year before the deal is gone!
Other Election 2020 Updates (Graphics: Washington Post)
---
Three Things to Know
One American Thing: An end in sight? (Graphic: Statista)
The US and the Taliban signed a peace agreement on Saturday that formally begins the process to end the War in Afghanistan. The deal sets a timetable for the 13,000 remaining US troops to withdraw, including a 50 percent reduction in the coming months. The Taliban, for their part, must sever ties with international terrorists.
We shouldn't hold our breathes – we've been here before – but fingers crossed we're close to getting out of The Blob's 20 year quagmire.
---
On Sunday, Turkey declared war on Syria for attacks the killed at least 33 Turkish soldiers (rumors are that it may be up to 100). Although Erdogan will not admit it, it is more likely that direct attacks from Russian airpower killed the soldiers but Ankara does not want direct war with Moscow. Damascus on the other hand…
On Monday, the Turkish news agency Anadolu quoted the Turkish Defence Minister Hulusi Akar as saying that Turkish forces destroyed two Syrian Su-24 fighter jets, two drones, 135 tanks, and five air defence systems and "neutralised" more than 2,500 fighters loyal to the Syrian government. The term neutralised is used for the killing, wounding, or capturing of pro-al-Assad forces.

Sources told Al Jazeera Arabic that on Saturday at least 10 high-ranking commanders of the Syrian government's forces and its ally, Hezbollah, were killed by a Turkish drone while meeting near the town of Zerba in southern Aleppo province.
The Civil War has bled into a full-blown regional conflict with both Damascus and Turkey killing dozens of the other nation's soldiers in the last week. With the help of Russian airpower and Iranian militias, Assad and the Syrian regime have been able to retake all of Syria except the northwestern Idlib province. For the past several months, Syria and Russia have made a final push to end the war and bring all of Syria back under Damascus' control. The offensive has displaced 1 million people since December and they're all fleeing for the Turkish border, a country that already holds 3.5 million Syrian refugees from the last decade of war.
In a desperate move to force assistance from the EU, NATO and the US – either financial or arms-related – Erdogan "opened the gates" and allowed migrants passage to Greece, but Athens has deployed its military to the border and is determined to prevent further refugees from entering its borders. Greek islands are even rebelling against the number of migrants.
As of now, Syria and Russia have been stalled by Turkish airpower. Russia and Iran-backed militias sent reinforcements to the Syrian forces but next steps will be determined by the planned summit between Putin and Erdogan on March 5.
Unfortunately for Damascus, regardless of what happens in the northwest, insurgents in southern Syria are capitalizing on the regime's recent misfortune to reignite their own struggle.
---
One Cultural Thing: COVID-19 (Graphics: CDC, Statista)
It should go without saying that the coronavirus is not a "hoax." However, I believe the media is overreporting (as usual) which could quickly spiral into full blown public panic when our emergency response infrastructure has been gutted.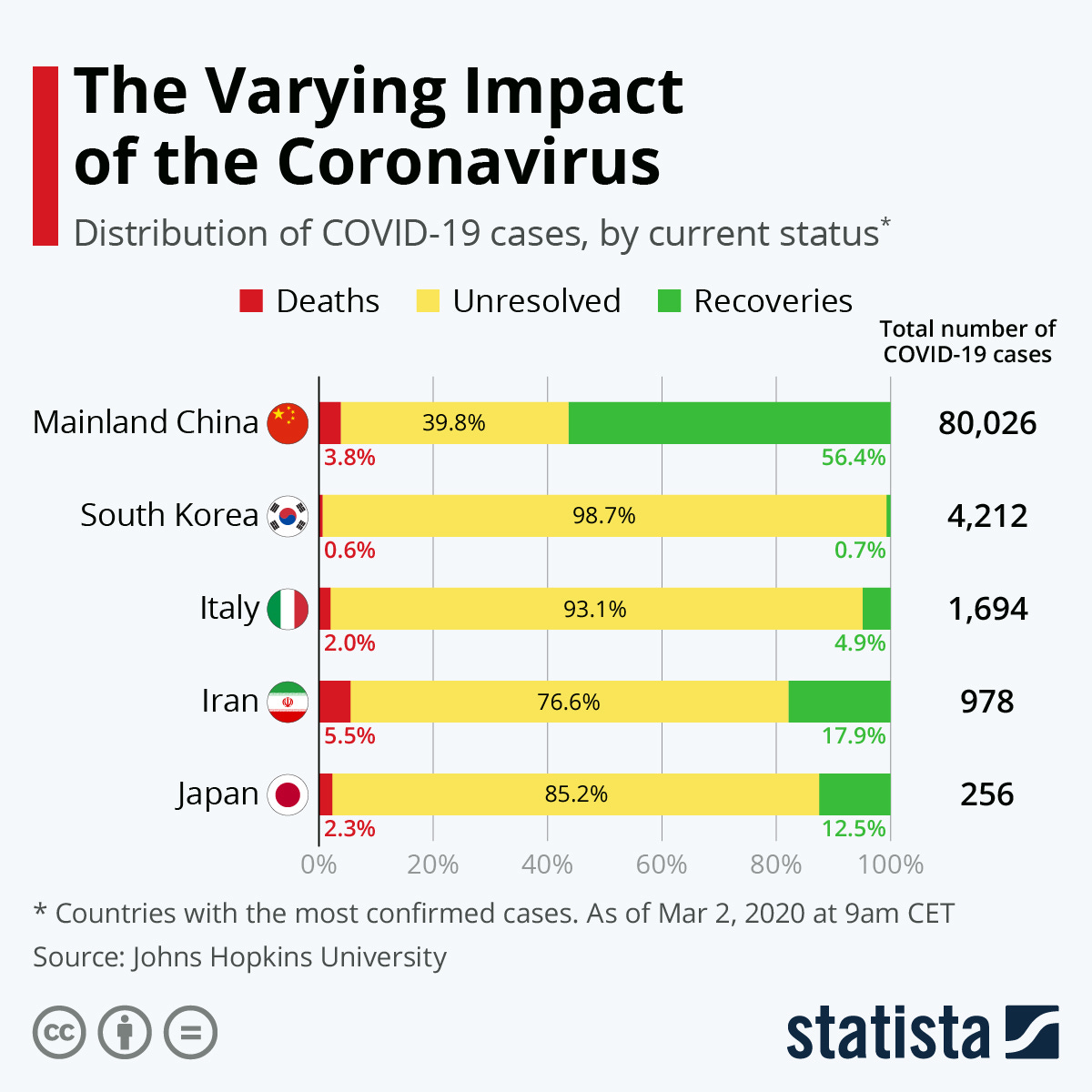 ---
Feeling Third Cultured? Share it today!
---