Happy Veterans Day
Third Cultured vol 33
Thank you to the men, women, and non-binary folks who make up our military!
No matter how you feel about the American Empire, it's important to remember the everyday people who sacrifice their lives for our ideals. They are by no means an innocent monolith, but veterans are overwhelmingly working-class folk who are making the best out of a capitalistic world. In our timeline hellbent on extraction, it is refreshing to celebrate those who prioritized service before self.
I've collected a couple of articles that I thought drove home the current divide between American civilians and the military rank-and-file. The US military is the most powerful institution on planet Earth. Rather than dismissing it, the American Left should be contemplating how to leverage the working-class realities of today's military with their future global goals.
I think they'll find no one is more anti-war than those that fought them.
Until Wednesday,
Kyle
Veterans Day reads:
---
Three Things to Know
Bolivia's president Evo Morales, the nation's first indigenous head of state, was forced to resign after the Organization of American States reported on Sunday morning the election had "serious security flaws" and a "clear manipulation" of the electoral computer system. Morales attempted to call for new elections; however, the protests intensified to such a degree in the hours after the report's release the military forced the president to step down. Jeanine Añez, VP of the senate, has announced that she will assume power in accordance with the country's rules of succession. The former president and his entire government have fled to Mexico having been granted asylum after the opposition began ransacking the leadership's homes, including denouncing the indigenous people's "Pachamama" deity (Mother Earth) and "claiming Bolivia for Christ."

It should be noted that Morales' government was notably anti-American and socialist, with the scenes for his ousting playing right out of Washington's regime change playbook. Many are saying it plain: it's a coup.

Specifically, a right-wing, CIA-backed coup.

Jane McAlevey on Twitter said it best, "There were more voting irregularities in the US states of Georgia or Florida in 2018 than in Bolivia."

The (technocratic) underestimation of Moscow is one of Washington's greatest self-inflicted wounds. There is no reason for the Blob to think so little of the nation that was at the heart of the empire they – not even 30 years ago – believed was their sole competitor. This is not a wholesale endorsement of Russia. It is still an authoritarian, ethnic-nationalist state and it goes particularly out of its way to demonize Queer people. However, by not even feigning the great power respect Moscow seeks, the Washington elite created more problems than they hoped to solve.

Learn from Napoleon and Hitler. Work with Russia.

The progressive prosecutor movement scored a big win in San Francisco – the heart of neoliberal capitalism itself – with the election of Chesa Boudin as the City's next District Attorney. I am proud to have cast a vote for Boudin and I am excited to see actual progressive momentum coming out of the City by the Bay. He had the endorsements Vermont Senator Bernie Sanders, Philadelphia District Attorney Larry Krasner, and Black Lives Matter co-founders Patrisse Cullors and Alicia Garza. Weeks before the campaign Mayor Breed attempted to appoint Boudin's primary competitor, Suzy Loftus, to the position but San Franciscans were determined to have their voices heard in the first open DA race in 110 years.

As you can tell, I'm happy this morning.
---
"Why and with what reason the Americans from so far away came to the West Pacific countries, using their military, political, economic, and cultural power, to control these countries? Actually, it has no basis in reason. Therefore, one day, sooner or later, America will let go of the West Pacific and withdraw back home."
---
American Empire
American markets are broken. Whether you worship them or not, you're overcharged.
A reenactment of the 1811 German Coast Uprising – the largest slave revolt in US history – took place in New Orleans over the weekend. During the two-day, 20-mile march, as many as 500 rebels burned five plantation houses, several sugarhouses, crops, and killed two planters. Although unsuccessful, the rebellion inspires many and the reenactment hopes to revive a purposefully erased chapter of American history.
Election 2020 will be decided on the most manicured of battlefields: the Suburbs.
Iraqi security forces have killed at least 319 protesters since demonstrations began weeks ago. The United Nations' Assistance Mission for Iraq urged the country's politicians to chart a way forward and proposed a roadmap, with a series of short- and longer-term measures to deal with the crisis. For immediate measures, it called for the release of all peaceful demonstrators detained since Oct. 1, initiating a full investigation of cases of abduction and prosecuting and punishing those responsible for the excessive use of force. The United States called for "the Iraqi government to halt the violence against protesters and fulfill President (Barham) Salih's promise to pass electoral reform and hold early elections."
Mexico's president invited the FBI to assist in the investigation following the deaths of nine US citizens at the hands of cartel violence.
President Erdogan of Turkey to visit the White House on Wednesday. Meanwhile, his government and its proxies are being accused of ethnic cleansing in Syria. The two leaders will hold a press conference when they meet to discuss the Turkish operation in Syria, the decision to keep some U.S. troops in Syria, and Turkey's purchase of the Russian air defense system.
The Mississippi River is, and always was, the heart and soul of the United States.
But when secession leaped the Mississippi, it put Lincoln in the position Benjamin Franklin and Thomas Jefferson had been in when they rejected the idea that any part of the great river could be in foreign hands.
The US has only paid the Marshall Islands $4 million of the demanded $2.3 billion in claims following the Cold War nuclear tests, and the depositing of hundreds of tons of nuclear waste on the island chain. Now, due to rising sea levels, the concrete dome capping all the waste is in danger of coming loose.
---
China, Europe, Russia, and Everyone Else
China and Turkey celebrated the first completed trip of "the Iron Silk Road," – or the Xi'an-to-Prague freight train. The project shows a growing partnership between China's Belt and Road Initiative and Turkey's Middle Corridor Initiative. Japan financed the construction of the Bosphorus tunnel that provides China and Europe a non-Russian freight-line through Eurasia.
The 11,483 km Xi'an-Prague journey is expected to be completed in 18 days.
Hong Kong saw the 24th weekend of violent protests, climaxing with police shooting a protester on Monday.
Iran has seen 4,200+ protests since January 2018 because of economic, political, and environmental grievances across the country.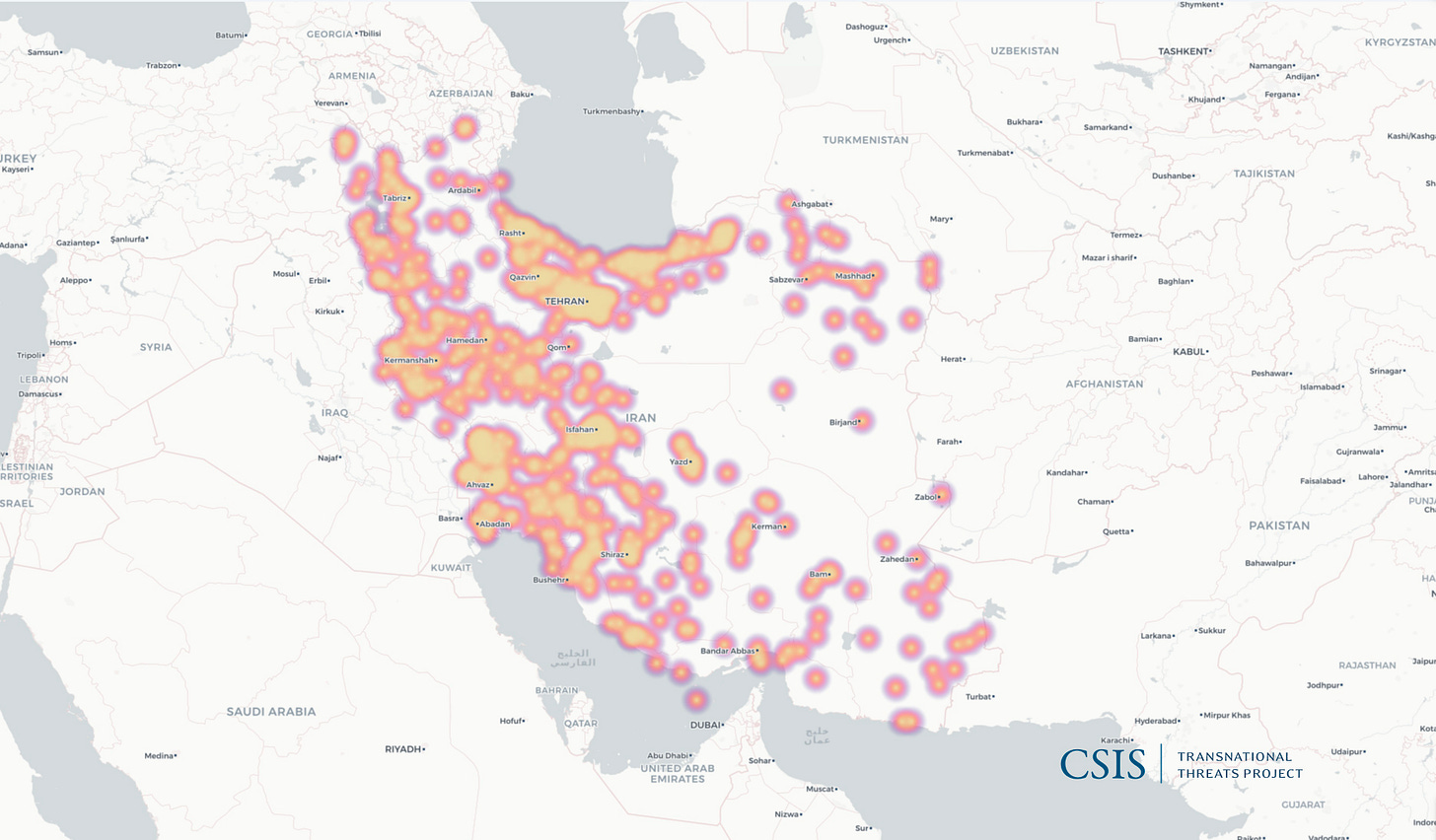 Japanese lawmakers hope to create a security forum with the US and Taiwan by the end of the year to increase cooperation between the three militaries.
King Abdullah II of Jordan ended Israel's "annex of Ghumar and Al-Baqoura, in the peace treaty and impose our full sovereignty on every inch of them." However, Israeli farmers will still have access to one of the parcels for the next several months.
Last year, China's Single's Day raked in $31 billion. This year? Alibaba saw $12 billion in sales in just the first hour. The comparable long US holiday shopping weekend – Thanksgiving, Black Friday and Cyber Monday — is expected to generate total retail sales of $29 billion. That's less than the $36 billion generated more than half-way through 2019's Singles Day sales period, which last year fueled $30 billion in sales.
Spain's Socialist party was victorious in the country's latest elections – its fourth in four years – but another hung parliament is likely given the results.
The United Arab Emirates, Sudan, Turkey and Jordan violated the arms embargo imposed on Libya by providing General Haftar with military support.
The UK's Brexit party said it would not run candidates against Johnson's Tories, after the prime minister's "shift of position." Brexiteers will now focus on challenging Labour party candidates leading up to the December 12 poll.
Ukraine and Russian-backed rebels began the Donbass withdrawal on Saturday.
---
Third Cultured yet? Sign up to never miss an update on global politics and strategy!
---
Cities, Climate, Corporations, and Culture
144 LGBTQ candidates won in 382 American political races in 2019, for an overall victory rate of 38 percent, with 99 wins coming last Tuesday alone. The Rainbow Wave is just getting started!
Ancient Rome ruled more than 70 million people, and now we know some of the diverse genomes that made it up. A new study presented 127 genomes from 29 archaeological sites in and around Rome, spanning the past 12,000 years. They observed two major prehistoric ancestry transitions: one with the introduction of farming and another prior to the Iron Age. These ancestry shifts mirrored the geopolitical affiliations of Rome and were accompanied by marked interindividual diversity from across the Mediterranean, Europe, and North Africa.
A new Incan city was found at 13,000 feet. And, it's older than Machu Picchu!
A second South Dakotan indigenous tribe passed a hate crime law protecting LGBTQ+ people.
Gaelic football and hurling, Ireland's ancient sports, are experiencing a renaissance thanks to the country's new diverse generation.
It should come as no surprise that the most powerful force in Silicon Valley is none other than Stanford University. However, you may be shocked to find out a lot of its influence stems from its $19.7 billion taxable property portfolio. In an empire founded on life, liberty, and (private) property, it probably shouldn't surprise any of us that even in the heart of the internet – property is power.
Stanford's holdings include:

$14.7 billion in academic, medical, commercial and other nonresidential land, $1.1 billion in single-family homes — that's more than 700 houses — $881 million in multi-family residential buildings and $3.1 billion in equipment, machinery and other taxable property.

"People think of Stanford as a university with a football team and two basketball teams, I guess. But it's a corporation with enormous land ownership, and it functions in its relationship to the surrounding communities as a corporation," said former Mountain View Mayor Lenny Siegel, a long-time housing advocate who attended Stanford.

The value of Stanford's empire is larger than those of Google, Apple and Intel combined. Apple, the runner-up with just under $9 billion in taxable property, doesn't even come close.

Arguably, no other major landowner is as well-positioned to help solve the housing crisis as Stanford — a behemoth that controls 8,180 acres of land, some of it spreading into San Mateo County — and an endowment of $27.7 billion. That gives Stanford a big responsibility, argues Santa Clara County Supervisor Cindy Chavez: not only to build enough homes for its workers but to be the leader that inspires other large local companies to do the same.
---